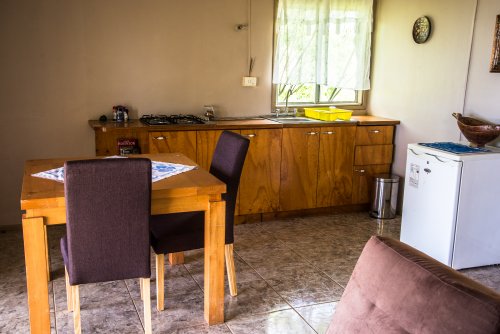 Welcome to Green Island Cabins. We have two cabins available which are just a 5 minute drive from the centre of the town but they feel like a a million miles away. With stunning sunset views and few neighbors, it really is what one should experience when coming to one of the most isolated islands in the world.
The names are Ariki Nui (the larger cabin) and Ariki Iti (the smaller cabin). Ariki Nui is our larger cabin with 2 bedrooms, a living room, and a spacious bathroom. Ariki Nui can sleep up to 4 people comfortably.
Ariki Iti is a cosy 1 bedroom house with fully equipped kitchen, hot shower, a bathroom and stunning views over the western ocean. An extra single bed can be added to the large living area and it has a fold out couch. It can also host up to four people.
Contact us for availability, or book online through the following links
Ariki Nui - https://www.booking.com/hotel/cl/green-island-cabins-ariki-nui.en-gb.html?label=gen173nr-1DCAsoL0IdZ3JlZW4taXNsYW5kLWNhYmlucy1hcmlraS1udWlIM2IFbm9yZWZoL4gBAZgBLsIBA2FibsgBDNgBA-gBAZICAXmoAgQ;sid=156dad0e0dc34beec083a3f05c655dea;dist=0&sb_price_type=total&type=total&
Ariki Iti - https://www.booking.com/hotel/cl/green-island-cabins.en-gb.html?label=gen173nr-1DCAsoL0ITZ3JlZW4taXNsYW5kLWNhYmluc0gzYgVub3JlZmgviAEBmAEuwgEDYWJuyAEM2AED6AEBkgIBeagCBA;sid=156dad0e0dc34beec083a3f05c655dea;dist=0&sb_price_type=total&type=total&